RT has been blocked from posting content to its Facebook page. The ban, according to the Facebook bot, will last until Saturday 10:55pm Moscow time (2:55pm EST) and will extend across US president-elect Donald Trump's inauguration.
A misplaced live streaming rights strike during RT's broadcast of President Obama's final press conference seems to have triggered the ban.
RT's Editor-in-Chief Margarita Simonyan said she wasn't surprised that RT had been blocked from posting on Facebook following a complaint from Current Time TV – a part of Radio Liberty, financed by the US Department of State.
"I'm not surprised. If the Department of State could block oxygen to us, they would do it", she told RIA Novosti.
FYI Facebook blocked @RT_com from sharing content to the page until Saturday 10:25pm Moscow time. Working on it w/ FB team.

— IvorCrotty (@IvorCrotty) January 19, 2017

RT's Head of Social media, Ivor Crotty, said "the live-rights strike seems to be part of an algorithmic failure to acknowledge rights acquired by broadcasters, and we hope it will be resolved in the short term."
Was it

— IvorCrotty (@IvorCrotty) January 19, 2017

"While Facebook is a powerful distributor of live-streams it is struggling with the rights ramifications. RT will continue text-only posts to Facebook until the issue is resolved," Crotty added.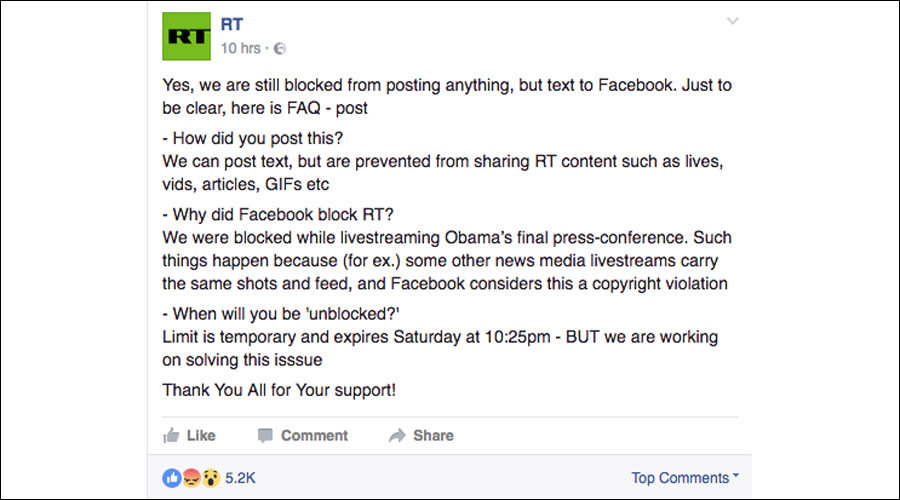 President Obama's final press conference was carried live by multiple news networks on Wednesday. RT's stream was interrupted by a Facebook bot notification that rights had been claimed by a local Russian publisher Current TimeTV.
When asked by RT, Current Time TV said in a statement that "the channel has not sent any complaints regarding RT or any other organizations in connection with the live feed."
"We were feeding Barack Obama's news conference with simultaneous translation on Facebook in a daily show Timur Olevsky's Hour and we had all necessary rights for that feed," it stated.
However, RT was streaming the broadcast from an AP Direct feed, being officially subscribed. In response to an RT inquiry, AP assured the channel it had no hand in breaking the streaming.
"There is no reason from our side as to why RT should have not been able to freely transmit our signal via their own FB page. In fact, I do not believe that AP would even be able to physically restrict client's [sic] transmissions on their own Facebook pages. In addition, the footage was our own and the restrictions did not mention anything out of the ordinary […] In short, it must have been an issue on [Facebook's] end," AP Editorial Liaison representative Phoebe Paulus said in an email.
12 hours since the block, RT has not received any mails from Facebook to its page admin confirming this was the case.
The manager of the "News, Media and Publishing on Facebook" Group responded to an RT post on the block, saying it seemed RT had rights but that the only option was to submit to Facebook's management system.
This is the first time RT has been blocked from posting to Facebook. Here is the image of our post to Facebook and of the chat with Facebook Media, News & Publishing group.